The Samaritan Woman, or Why I Love My Church!
This is my church: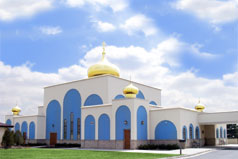 .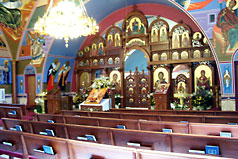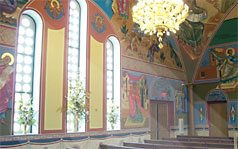 My pastor believes that Christ should show forth in every aspect of a parish's life, from the Liturgy to the donut social, from the icons in the sanctuary to the landscaping. He has spent lots of time making the parish beautiful inside, as well as outside. The pictures are a bit out of date, but we currently have two shrines visible from the road: there is an icon of the Mother of God painted on slate by the church building, and a shrine and icon to Christ by the side of the road.
This Sunday, rather than give a homily, Fr. Tom played a videotape while he reread the gospel (the story of the Samaritan woman at the well): on the video a car drove by on Will-Cook Road. It slowed down, and the driver, a woman, got out. She looked a bit tentatively at the icon of Christ, and then approached, and saying a prayer, she leaned up and kissed the icon. Cars kept driving by while she did this. She walked back to her car, looking over her shoulder at Jesus every few steps. Then, finally, she drove away.
If indeed "all of you who have been baptized into Christ have put on Christ," then his love should shine forth in all that we do. The decoration of church grounds with statues and icons may be seen by some to be a relic of the pre-Vatican II past. But look at what happened: God's love overflowed out of our tabernacle, through the church, outside onto the grounds, and was so powerful that it allowed Jesus Christ to call to this woman as she drove by. How much grace was given and received, simply because my pastor thinks that God's property ought to be beautiful?
If you wish to see more pictures of our church, look here.